What is Veterinary Hospice?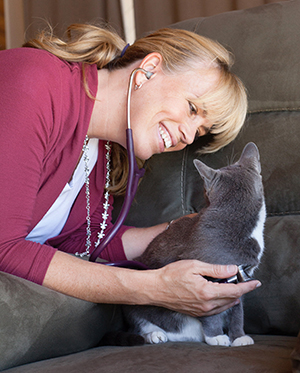 Veterinary Hospice is a family-centered service dedicated to maintaining comfort and quality of life for the terminally ill or geriatric pet until natural death occurs or the family elects peaceful euthanasia.
Hearing those dreaded words "nothing else can be done" does not mean that euthanasia is the only option you have left. Veterinary hospice care is a unique approach to your pet's end-of-life needs. Extrapolated from human hospice, this specific type of veterinary care is focused on the comfort of your pet, not at finding a cure for his or her disease. It is appropriate if your pet has been diagnosed with an incurable illness or if further therapy options have been declined in lieu of comfort-oriented care. It is important to note that veterinary hospice does not include any diagnostic or blood-work services. Our goal is to manage the symptoms, focusing on comfort and maintaining the human animal bond.
Hospice care revolves around the client-patient-doctor relationship. Education about your pet's medical condition is the most important aspect of hospice care, and it's what Lap of Love veterinarians spend the most time on. We have informational sheets on many common diseases our companion animals suffer from located in the Education section of the website.
You need to know what to expect in those last few weeks, days, and hours in order to make the best decision for you, your pet, and your family. Although we cannot know for sure, we use our medical knowledge to help you make those decisions. We assist you in implementing a plan that will meet your pet's needs and respect your family's wishes.
Veterinary hospice care usually includes, but is not limited to:
Implementation of a hospice care plan for your dog or cat
Education about the end-stage disease process
Pain recognition and treatment
Subcutaneous fluids
Supplementary nutrition
Management of incontinence
Bandage and wound care
There are many things that can be done at home to help your pet be more comfortable in the end-of-life stages. Visit the Education area of our website for more information. We also encourage you to talk with your regular veterinarian about additional comfort-oriented care. Many families also find it helpful to speak with others that have been through this difficult process. You may visit our Facebook page to read posts and view stories from other families as well.
---
Darby's Story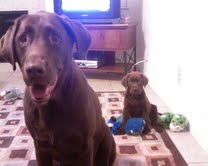 Jan was a client of Dr. Mary Gardner's in March 2011. Dr. Gardner was referred to Jan from the oncologist treating Jan's sweet dog Darby. The first visit (which was a Friday) was to just be a hospice visit and make sure Darby was feeling ok, teach Jan how to give fluids under the skin and prescribe some appetite stimulants. When Dr. Gardner arrived, she met a very sweet but very sick dog and a mom that was having a difficult time saying goodbye to her dear friend. It was very clear to Dr. Gardner that it was Darby's time to say goodbye but Jan was not ready - and she herself said she was on 'Denial Island'. Dr. Gardner taught Jan how to do the fluids and told her how important it was that Darby start to eat again. Unfortunately, Dr. Gardner had to return the following Monday night to help Darby say goodbye.
On the Photo: Darby – happy and healthy!